Wind spinners are lawn ornaments that can embellish your outdoor space in different ways. The origin of these spinners dates back to the traditional windmills. Also called as pinwheel, twister, eye-catcher, and whirligig, this garden ornament is available in a wide range of colors, sizes, and designs. You can choose twisters or pinwheels according to the décor of your garden.
These spinners are bright and colorful with interesting designs and shapes. The use these spinners are not limited to your garden, but you can extend it to your patios, porch, and deck. You can hang wind spinners on a hook in any height. This garden embellishment proves to be a delightful sight when you hang it on a tree branch or a bracket.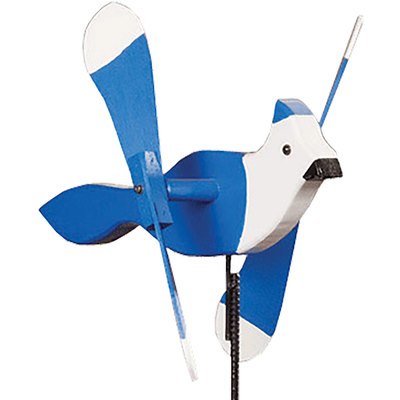 Amazing Varieties
You can find wind spinners in different varieties. Although you may find spinners made of different materials, stainless steel wind spinners are quite popular due to its ingrained beneficial features. These spinners are long lasting and rust proof. It can weather changing climatic conditions and tend to appear beautiful. It is therefore quite important to check if your garden embellishment is made of stainless steel. You can find spinners made of wood, plastic, and other materials on many of the online and offline stores.
There are relatively small sizes spinners, which are three-four inches in diameter. However, you need largely sized spinners, which are eight inches in diameter for your garden and porch. The most widely used wind spinners are about 12 inches in diameter. These spinners are apt for outdoor lawns and gardens as it proves to be a great decorative element for your garden.
With such a wide collection of eye-catchers available these days, you can be creative in your choices. You can choose from a range of mixed colors and add elegance to your outdoor space. All that you need to do is to hang it in a space where there is a little breeze and sunshine so that you can enjoy its true beauty when the sun's rays pass through these spinners.
Embellish Your Outdoor Garden with Assortments
Wind spinners are available in different themes too. You can find these spinners with butterfly, unicorn, and hummingbird themes, which is just perfect for your garden or patio. You can also find spinners with solar light, which are beautiful additions to your lawn, garden, and patio.
What Makes them so Popular?
There are many reasons why wind spinners have become trendy. Apart from its circular metal shape, these decorative items are simply fascinating to watch when you hang it in your garden or any other outdoor space.
Durable
Made from stainless steel, these spinners are long lasting and rust proof. You can find wind spinners made of different types of materials.
Wide assortment
As there are numerous varieties available in the online and offline markets, it is quite easy to find an eye-catcher to complement and decorate your garden. You can find spinners made of plastic, copper, wood, and so forth. However, stainless steel spinners are quite popular as it is long lasting and rustproof.
High quality
Most of these spinners are manufactured using state-of-the-art technology and high-quality materials, which make them even more popular. Modern spinners include 3D effects, which makes it even more interesting to watch when sunrays pass through it.
Affordable
With a plethora of designs, sizes, and styles of spinners on the market, you can easily buy an eye-catcher at an affordable price.
Wind spinners are among the most interesting lawn ornaments that you can use to decorate your garden or backyard. You can even customize these spinners to complement with the décor of your garden. It brings a unique versatility to your lawn by exuding an exceptional charm and beauty. It can alter your landscape with its distinctive colors and themes. These vibrant pieces of decoration keep moving and creating interesting effects in your garden.
Finding a perfect wind spinner is no longer a difficult task. You can find numerous exciting varieties of colors with 3D effects in these spinners. So, go ahead, and choose a vibrant and exciting spinner to embellish your garden.