Though redecorating a room is quite exciting but modifying your bedroom can prove to be a little challenging. Bedroom is an important area in your home as it offers personal space and you tend to spend a lot of time in this room. Randomly arranged interiors might mean restless sleep and uncomfortable surroundings. To avoid this and for the bedroom to look sophisticated, it is advised that you get rustic bedroom furniture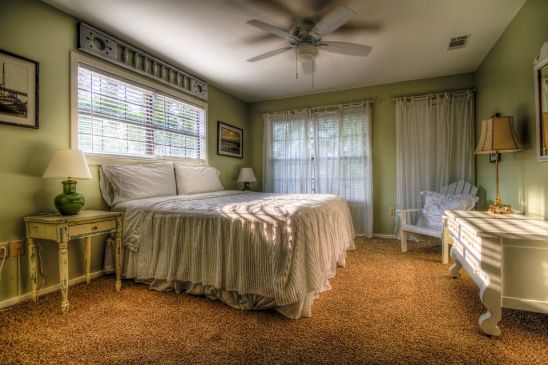 for this area. But before deciding the constituents of your bedroom furniture, it is important that you consider a few factors about the overall look of the bedroom:
Size: Measure your bedroom to scale before you head out for buying the furniture. You should buy furniture only according to the size of the room. While bigger bedroom can have multiple and bigger pieces, smaller bedroom should consist of just basics. No matter how beautiful a particular piece of furniture is, it will be useless if it makes your room feel overcrowded.
Look: The style of bedroom is also an important criterion while picking up your bedroom furniture. You need ascertain whether you want a chic, classic, rustic or modern look for your bedroom before selecting your bedroom furnishings. You should also determine the color scheme you want to follow in your bedroom.
Usage: Nowadays one piece of furniture serves various purposes. For example, beds come with multiple drawers for your storage needs; wardrobe comes with mirrors to fulfill the requirements of a dresser and so on. Therefore, choose your furniture carefully to solve all your bedroom needs all while saving a lot of space.
Budget: Set up your budget, compare the prices and then buy furniture, which is reasonable, cost-effective and also of good quality. Do not get wooed by attractive designs, it is important that all the fixtures are designed with durable material to enhance their longevity.
Some of the essentials of a complete bedroom set are bed, nightstand and dresser or chest of drawers.
1.  Bed
Bed is the focal point of any bedroom. It is not only important that it is comfortable but it should also look good. This piece of fixture is most difficult to compromise on. The bed should be big enough to accommodate the sleepers easily. Pick up your bed first and then select other pieces of furniture in the room according to it. Nowadays a wide variety of beds are available in the market and choosing amongst them can be a little tricky. Some of the common styles of beds are platform beds, sleigh beds, poster beds, panel beds, slat beds, day beds, trundle beds and bunk beds. Ascertain your needs and buy a bed that matches your requirements. Also, make sure that you keep the height of the bed in mind as well – low floor or normal – for comfortable use.
2.  Nightstand
While sleeping, you want a convenient place to keep your personal items like an alarm clock, reading glasses, water or a picture frame. For this reason, you need a night stand. Nightstands usually consist of drawers and can even serve the purpose of a small dresser as well. However, it is not always necessary to buy a separate nightstand for your bedroom. Certain beds consist of a side stand. The most crucial factor while picking up a nightstand is to consider its height. You should easily be able to reach it while lying on the bed. For convenient use, your nightstand should be slightly taller than the height of the bed.
3.  Dresser or Chest of Drawers
Whether you choose a dresser or go with chests of drawers, it will serve the same purpose and will also be similar in designing. While, a dresser is wider and offers double line of drawers for storage, its height is low and comes about waist high. On the other hand, chest of drawers is taller and comes with a solo row of drawers. You should make a decision between the two keeping the size of your bedroom in mind. You should visualize beforehand where you want to keep each fixture to ensure that the room shouldn't feel too crammed.
Designing your bedroom for comfortable existence starts with assessing your requirements and using these factors to pick perfect furniture. So, just buy sophisticated rustic bedroom furniture and create a perfect haven for yourself by selecting smart pieces.