Rustic bathroom vanity has its own style and trend with an extra spark of elegance, natural warmth and luxury infused within the bathroom interiors. The feel and the appeal are just awestruck especially when combined with a complete rustic style in the bathroom interior. To add there is much to add in terms of accessories, mirrors and fixtures. You can choose to have your own style and wild imaginations to create the perfect ambience for your bathroom.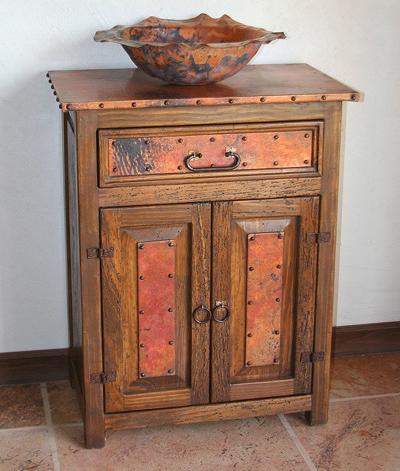 However, the very first and most important thing to consider here are the rustic bathroom vanity that creates the first impression to anyone who steps inside. As it is in a bathroom, a vanity is considered to be the focal point of the interior and here you can create your own style with imaginative designs, patterns and accents. There is not much you can do with textures, but the right size and positioning with the right finish would certainly make the difference. You can choose to have a single vanity with a well-designed countertop and a well-structured storage cabinet beneath, all according to your needs and desires. If in case you have a bigger space available, then going for a double sink bathroom vanity would certainly be a good bet. With this, you can get better storage space and extra drawers for keeping the essentials and of course a tranquil charm to the ambience.
Now, once you have decided what type of vanity to use, you can step further with the selection of wood for creating the vanity you wish to have for your bathroom. The most common types of woods used for creating rustic bathroom vanities are mahogany, oak, cherry and not to forget the reclaimed wood. Crafted of high environment friendly timbers, reclaimed wood can be effectively put to use for creating an outstanding reclaimed wood vanity that just stands out with a perfect combination of traditional feel and innovative design. However, some extra care is required to maintain such kind of wood, especially to protect from moisture.
Then further when you go to choose the perfect sink and countertop for your bathroom, there are varieties of materials. For sinks you can choose to have porcelain, metal, stainless steel, ceramic or aluminum, all these materials blend well with the rustic vanity. Further for the countertop, natural stone or granite work as a perfect partner complementing the interior of the bathroom ambience.
Adding to the sink and countertop, there are options to choose when it comes to selecting the cabinets. With innovative ideas and new designing techniques, the trend of creating cabinets under the sink has increased. This is to add an extra spark of warmth and cleanliness to the ambience. With this, the options for vertical cabinets, mini cabinets, horizontal cabinets and frameless cabinets have also come up with an urge to suit the needs of every individual. Wisely you can opt for a cabinet size and alignment with what you wish to have so that you can get your bath accessories with ease, a cabinet that can serve functionality with affordability.
Now go for the final and the thoughtful combination of a perfect vanity that includes cabinets, sinks, countertops and mirror. When you talk about the final comment on the finish and appeal, there is no doubt that it gives a bit of unorganized and unsymmetrical finish, but that is what rustic appearance is all about, that's the uniqueness of rustic bathroom vanities. Whether you call a wildlife ambience or a village like appeal, it all depends on your own perspective, but what stays common is the inspiring blend of traditional and modern art.
A distinctive vanity with a perfect synchronization of bath accessories, fitting, fixtures and bath hubs are an inspired addition. You can even stay imaginative with decorative displays, offbeat lighting, layered wooded walls and many more to count for the feel and finish you wish to have for your bathroom. In complete you can have a relaxing, earth tone interior.
Be it any room of your home, the natural wood, organic textures and a complete soothing ambience is what you get with the rustic furniture. But when it comes to deciding the best style and look for the bathroom, rustic style has its own charm and undoubtedly its own trend.