Modern day fans aren't just about the number and size of the blades they have. These products are stylish and hip, blending seamlessly with interior décor themes and providing stunning focal points within the room. Many of them also come equipped with flush mounts, thereby doubling up as illumination sources.
Minka Aire is a best outdoor ceiling fan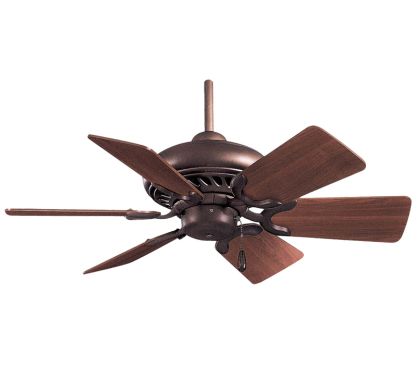 brand known for their unparalleled combination of form, function, and design. We take a look at six of their stunning and versatile designs that are capable of transforming the appearance of your living spaces.
# 6 – San Francisco
The Minka aire fans resembles contemporary light pendants that have been converted to fans with the addition of blades. The products consist of three plywood construction blades with a sweep of 56 inches, and are created for interior areas. The fans are available in two finishes – Brushed Steel with Chrome and Birds Eye Maple blades, and Oil Rubbed Bronze with Medium Maple blades. They come equipped with a manual reverse, wall mount control and have an airflow efficiency of 75.06 cubic feet per minute per Watt.
# 5 – Wing
An Energy Star Collection of single blade fans, Wing portrays simplicity and sturdiness and is devoid of a light source. Created for use in indoors, the fans have a 52 inch blade sweep and RPMs of 111, 130, and 155 at low, medium, and high speeds. They are available in Mahogany, Silver, Distressed Koa, Natural Maple, and Gloss White finishes.
# 4 – Artemis
The fan collection from Minka Aire is the perfect example of a sleek and contemporary design. Unlike regular fan designs, Artemis features products with vanes that are made of PCB and have a sweep of 58 inches. The fans also include a light source and are controlled by full function 256 Bit wall units. While the fans are available in finishes of Distressed Koa, High Gloss White, Maple, Liquid Nickel, High Gloss Pure Red, and High Gloss Black, the lamp shades come in finishes like Tinted and Etched Opal. Certain designs even feature halogen lamps and come with a cap for non- light use.
# 3 – Spectre
Spectre is an ultra-modern collection that includes industrial inspired designs with a contemporary twist. Composed of four sleek blades with a 60 inch sweep, these fans can be controlled by a hand held remote control. The products also include LED light units with clear lens and maximum wattage of 18 units. The fans are available in finishes of Brushed Nickel with Orange blades, Oil Rubbed Bronze with Antique Brass and Tobacco blades, Brushed Nickel with Flat White blades etc.
# 2 – Gauguin
If there is a collection that takes direct inspiration from nature to produce fans with an urbane style, it is Gauguin. Composed of four leaf-shaped blades, these fans are apt for use in houses that are close to nature either through their themes or their location. The fan blades have a sweep of 52 inches in Abs construction and include built in lamps. Unlike the other collections, Gauguin is for use in the outdoors and has RPMs of 76, 120, and 148 at low, medium, and high speeds. The products are available in Bahama Beige, Oil Rubbed Bronze, and Flat White finishes.
# 1 – Xtreme
As suggested by the name, the collection includes fans that are quite extreme in their design and function. Equipped with nine bleeds that cover up to a whopping 96 inch sweep, the fans aren't moderate in function either – the products can be made to work at size different speeds and come equipped with a full function, hand held remote control system. The Xtreme fans are meant for indoor areas and are available in finishes like Oil Rubbed Bronze and Brushed Nickel with silver blades.
From classic to contemporary styling, Minka Aire has fans for use in indoor and outdoor spaces, and are engineered for superior performance in rooms of all sizes. Their wide collection ensures that there is a fan for every décor and budget.