Whatever be your choice, especially when it's about picking something unique and different, for a warm and welcoming effect. Replicating nature's most beautiful creation, the designs offering a floral retreat totally set in a fresh tone to any space, the rich & glossy set up a strikingly glamorous appeal, the minimalist sheen of matte or a pop of color that adds drama, any of the blinds that carry varying design, turn out to be a perfect pick for you. Completely transforming your room interiors, making them better and brighter! 21st century, contemporary homes demand perfectly designed and made to measure blinds for that picture-perfect look of the window. Furnishing your window right, can simply make or break your interior set up. Pick your style of blinds, as per the size of the windows, the design in which it is crafted, hues around and other requirements. Owing to the modish demand and discerning viewpoint, window furnishing options are no longer limited. With constant innovation and practical approach, there are different types of blinds available in the market. An array of options that include the roller blinds, half and half blind, bottom up blinds, roman blinds, sliding panel blinds, vertical blinds and wooden blinds, you can pick the best suitable as per your modish preferences. For modern living that is neat and hassle free, thoughtfully curated contemporary blinds are inspired by various motifs, designs, finishes, fabrics, witty ideas and constant innovation.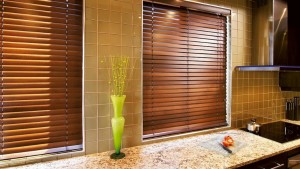 The charismatic & fascinating roller blind collection, creates a special effect that is perfect for your interiors. The beautifully crafted roller blinds are easy to handle and instantly introduce a component of extravagance and design to your home with a lot of ease. Why not pick the blackout roller blinds for your bedroom, these not only instantly controls, lighting, but also offer privacy, without any compromise on style. The raising and lowering the blinds as per the need of the hour, ensuring the flow of natural light and at the same time maintaining privacy, the bottoms – up blinds are a perfect choice for your office. Helping you work with natural light, while maintaining the privacy or secrecy required during meetings and documentation. Adorn your office windows with the finest blinds available, pick any beautifully designed bottoms up blind, to settle down in any elegant or sophisticated office setting.
A contemporary take on curtains, your guests will surely fall for the modern and classic Roman blinds (www.ehow.com/how_4712727_simple-roman-blinds.html), intelligently crafted, these deserve a special mention. Or you can just lend your luxurious abodes an air of graceful revamp in the form of wooden blinds. The vertical brands are the ones that will conclusively clasp the responsiveness of your fancy guests. Blinds play a perfect role of light and color. Brighten your mood as you indulge your senses in its intense play of colors, draped in the crimson hues, yellow shades; glossy white and upbeat orange make these blinds a must-have for your home.
Co-ordination is a must, try analyzing the color of your room as there are umpteen hues of blinds available, keep in mind the size of your window, and is way too easy, as the window fabricators do make custom made orders for blinds. Adding a new life to the décor these blinds are promising crowd pullers! For an eye-catching look, you can surely pep up the décor with a perfectly crafted nude toned blind, in innumerable shades showing a blatant play. Blending the shades of blinds that belong to the same color family sets a perfect contrast! Blonde, auburn & cerise, you have complete freedom to get the blinds tailor-made, as per your choice and preference. Offering lighting control and privacy, these blinds also add oodles of style to your exotic abodes.