To be precise, being an owner of a horse barn, your primary concern should be providing optimal comfort and ease of living to your horses and ponies. Similarly, assurance of comfort in mobility for horses, you and its caretakers within horse barns in Stafford needs to be given due importance. In the first case, it is the appropriate stall dimension in terms of its length, width and height that takes care of health, heartiness, and vigor of your horses, while aisle width works similar to the main corridor used for taking the horses out for grazing, training or riding and turning back. Apart from enabling horses to turn around the aisle, the passage offers them more lighting and air, since aisle acts wonderful being the air-tunnel of the barn and spreads breeze throughout shelter.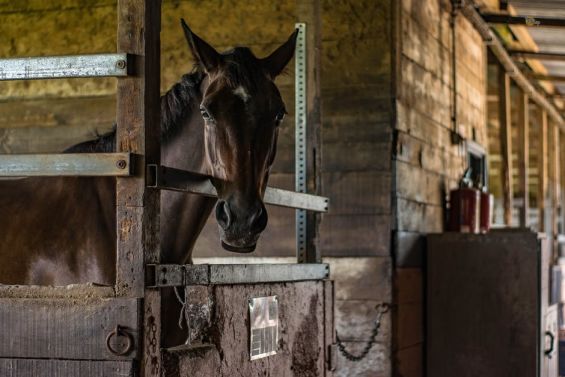 Not only cramped spaces cause trouble in living and maneuver but lack proper ventilation and natural light, which are essential for the wellness of your horses aside from just taking them in feeding room or wash room. Often a separate feed room is included in horse barns that helps keep the indoor stalls clean and hygiene, however, where space is a concern that can be avoided. Equally, having a wash room to provide horses with regular bathe is an ideal thought, but once again it can be managed with manually operated water hose in the outdoor grassland by making proper drainage system. Tack room and hay store are essential part of barn but not necessarily to be huge in size. Thereby, give basic priority to these chiefly used areas while planning the layout of the barn and make them roomy, relaxing and undisturbed horse and humans.
Determining the Aisle Width
With a view to have an ideal aisle width, while building horse barns in Stafford a rational way is to consider an array of factors such as, the size of the barn, the number of horses it houses, riders, keepers and tentative amount of its daily traffic. Contextually, you must keep in mind that, as the number of horses will increase in the long run, so the volume of caretakers. The most common way of determining of width of aisle is keeping parity with the width of entrance. The minimum recommended door size is 12 ft which has been an industry standard to ensure safe entry and exit of horses with the keeper side by side without any difficulty.
The biggest benefit of keeping equivalence of the aisle with the door's width is that it offers maximum maneuverability and minimizes the risk of injury. Especially, when center-aisle design is more demanding to horse enthusiasts due to its obvious benefits, with wider passageway in the middle, you can have best organization of your barn building. For example, while you require double rows of stalls, it's ideal to keep the feed room, wash room, and tack room in the middle portion of the barn that makes it short-cut for keepers to nourish the horses.
Determining the Stall Size 
In order to boast technically resourceful horse stalls in the barn, the size of horses and their time of spending within the stalls are consistent determining factors. Typically, horses larger in size need more housing area than the average and smaller ponies to move around, lie down, or get up hassle-freely. A 12ft x 12 ft is standard maintained by Horse Barns while 10' x 10' is also taken into account. Having dividers among two standard stalls is a brilliant way to make it more spacious for comfortable living for a mare during foaling or with a foal.
When it comes to the height part of stalls, consider 8-9 ft ceiling height which can accommodate larger to medium horses facilitating them to comfortably raise their heads without having damage from hitting. 8 ft is the standard ceiling highest, but if you can make it bit higher this will eventually advance air circulation which low (lower that 8') ceiling cannot provide. Also consider having 8 ft high stall partition, which is an industry standard.