Like lighting, ventilation forms an important part of home design and décor. Ceiling fans are an inevitable product in this regard. From being just objects that ensure a good and easy flow of air, ceiling fans have come a long way to become an important element of interior décor. These products today are designed keeping not just their functionality in mind, but also that of their overall blend with the interior theme, and style. There are fans for traditional, transitional, and contemporary styled homes. Some fans are rustic while others are industrial in style. They are built in varying sizes and blade spans so as to suit compact as well as extremely large spaces. The materials with which they are made, and the finishes they adorn too are diverse. They can be controlled using wall mount units or handheld remotes. Some of these fans play a dual role – equipped with reverse sweep, they dissipate warm air during winters, and help in maintaining optimum temperature inside the room. Of the many brands that are available in the market, the Minka Aire ceiling fans are extremely popular among consumers for their design and functionality. A noteworthy collection from this brand is the Spacesaver fan, designed around the 'hugger' style, for compact spaces.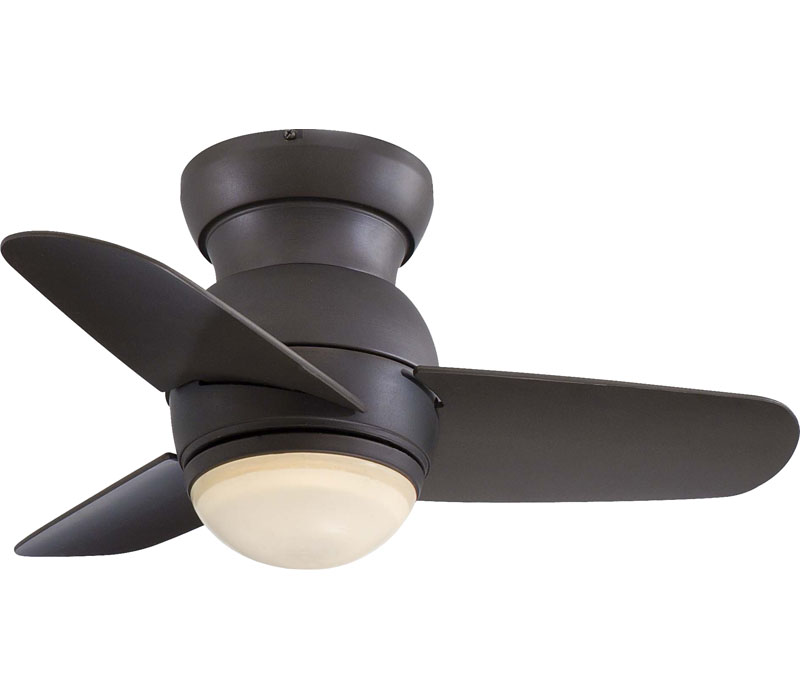 Features of Spacesaver Ceiling Fans
The Spacesaver fans are compact in size and created especially for use in small rooms that have restricted ceiling space. They are tailored for use in indoor areas and have a blade sweep of 26 inches and a blade pitch of 14 degrees. They comply with contemporary styling and boast of a unique and futuristic design that creates interesting focal points in any room that they are employed in. Their sleek and trendy nature makes them an apt choice for urbane homes.
Spacesaver fans are customizable with respect to their finishes, and work well in traditional, transitional, and contemporary themed homes. They come in three finishes namely – Brushed Steel, White, and Oil Rubbed Bronze. The Brushed Steel fan is available with Silver blades, while the White fan comes with White blades. Both of these finishes work well in transitional and contemporary interiors. The fan in Oil Rubber Bronze comes with Oil Rubber Bronze Blades, and is more suited for traditional, rustic, or vintage styled interiors.
Another feature that sets the Spacesaver fans apart is their dual functionality. These fans are equipped with flush mounts, which make them not just great ventilation products, but also impeccable light sources. The choice of shade for the flush mount lamp depends on the finish of the body and blades. The White and Brushed Steel finishes come with Etched Opal glass on the lampshade, while the Oil Rubbed Bronze finish comes with a Tinted Opal glass.
Spacesaver fans are versatile not just in their design and style, but also in their functionality. These fans come with varied control functions that add to their appeal among consumers. The Spacesaver fans can be controlled via a 4 speed wall control unit, which is also equipped with manual reverse. This feature enables the fan to function in reverse sweep during fall and winters; dissipating warm air that maintains the room in a body friendly temperature. The Spacesaver also is energy efficient. The maximum RPM achieved by the fan in low, medium, and high speeds are 170, 363, and 390 respectively.
Why Minka Aire
Minka Aire is part of the Minka Group, a leader in the decorative lighting industry. Their collection of ceiling fans is comprehensive and exciting, and boasts of unmatched quality and workmanship. These products cover all styles from classic to contemporary and showcase remarkable engineering for superior performance and comfort in rooms of all sizes. The range of these fans is so extensive that there is something for every décor and budget.
Spacesaver fans from Minka Aire showcase the quality and finesse of Minka products, and bring together an unparalleled combination of form, function, and design. These stunningly versatile products are capable of transforming the appearance of your living spaces to an unimaginable extent.