Are you looking for "roof washing near me"? Well, that's the right thing to do if the exterior of your home has started to look dirty or if you are spotting that the paint is peeling. But since there are various terminologies related to cleaning the roof, one might get confused. But don't you worry as you have landed on the right page to clear out all the confusion. You must know one thing that there are several different terms used for roof cleaning and there is just one stop to it- they all mean the same or slightly different depending upon the person you have gone to consult.
There is a slight difference of techniques in the cleaning method and being a homeowner, you must be aware of the slight differences so that you do not end up getting confused about the services that you want to avail to clean the roof. Before you go ahead with any decision, know that roof cleaning is one of the most important tasks to be followed timely to ensure that the roof is maintained, and you do not end up spending extra bucks on it.
Be clear about the fact that roof cleaning and roof washing are both the same and just differ technically from each other.
What is roof cleaning?
Roof cleaning is the process of cleaning out all the mold, moss, algae, and mildew from the roof so that your roof is maintained and its life is extended. If you look for "roof washing near me" you will find many services that also offer debris removal, snow removal, tree removal, and many such services that can cause damage to your roof.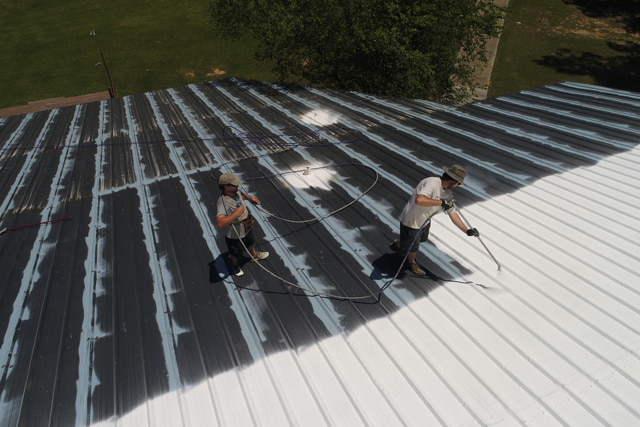 Roof Cleaning vs Roof Washing
Both are the same and there is no difference in the literal meaning of roof cleaning and roof washing. It is just that the cleaning and washing of the roof comprise of three types depending upon what kind of cleaning you are looking for and how much cleaning your roof needs.
• Low-pressure chemical roof wash
This kind of roof cleaning process is as simple as a car wash. All you need to do is apply soap to the roof, let it sit, and wash it off using a low-pressure water blaster. If your roof is having a low to medium amount of dirt, then this process will work great as it is instant and leaves long-term effects by cleaning all the bird droppings, debris and dirt.
• Spray treatment or soft wash
With the help of Benzylamonium Chloride solution, the roof is saturated and gets rid of lichen spores and moss on it. This solution keeps on working for a long time even after the wash and gets reactivated when gets wet. Therefore, whenever it rains, it is going to wash off that dirt right away. This method is quite inexpensive and can be used on large roofs as well.
• Pressured hot wash
This kind of cleaning/washing the roof method is generally preferred by all the companies as it is a standard one. A medium to high water pressure is applied on the roof or at a time heated to 50 to 60 degrees to give a hint of extra cleaning. This pressured hot wash is preferable for roofs made with metal where the lichen and dirt are extreme. So at times, if the lichen spores are out of control then a moss treatment spray is used after cleaning the roof so that it gets rid of all the dirt.
The bottom line here is that roof cleaning and roof washing are the same things and there are just certain types of it that are mentioned above. To "clean" the roof, you must "wash" it so that its longevity is maintained and a lot of future money is saved. Experts recommended that you must follow an annual roof cleaning routine which will make your job easy to keep maintained. Look for a good "roof washing near me" and get a detailed consultation of what can be done to keep your roof healthy and do not get confused about any of the processes at all.