The advancement in technology has made creating photo canvases very easy. It's a unique way to create something that will last for decades and all you need is to share some digital photos. There is no need to draw, paint or sculpt, but you can still get created lasting memories from your favourite photos.
Well… if you have thousands of photos in your memory card or on your hard drive, then it's high you do something exciting with them. Instead of simply emailing a few of them to your loved ones and forgetting about the rest, you can use your large bundle of digital photos to create photo canvas online – a unique way to decorate your home.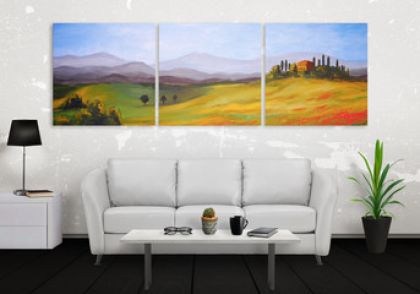 Canvases have been around for decades but are often only associated with oil paintings. Oil painting is the first thing that comes to the mind of many, when discussing canvases. But the advancement in technology has made it possible for us to transfer our favourites photos onto canvases and to decorate our homes in an all new way.
As the name says, a photo canvas is a canvas with your digital photo on it. It is woven and stretched like those canvases; the only difference is that it has your digital photo printed on it. When it comes to getting a photo canvas created, size doesn't matter at all. They can be as small as a paperback or as large as a projector screen, or even larger.
Each of your photos has memories associated with them. This makes the canvases much more substantial than just buying artwork someone else has created.
Ways Photo Canvases Can Be Utilized!
Choosing Anniversary Gifts– While many items can be personalised through adding photographs, it is the photo canvas that really stands out as being the best anniversary gift one can ever present. It will make a beautiful keynote in any room. Add a favourite wedding photograph or have a montage created of pictures taken over the years and you can give this photo canvas to your loved one for any anniversary; be it a fifth or fiftieth.
Photo Canvases For Yourself– Of course, there is no reason that you have to pick a photo canvas only for a gift. Whether you are looking for unique wall art or you want an even better-looking alternative to a framed family photograph, a photo canvas will always suit your requirements. The options available regarding dimensions and sizes, as well as the flexibility of adding or deducting a photograph, enables you to completely customise the canvas that you wish to put on your wall – perfect for the living room, bedroom, hall, or even the office.
The main advantage of transferring photos onto canvases is that they have a much more lifelike appearance and are much more intense. With more texture and much higher level of detail, they have the edge when compared to ordinary-framed photographs. As well as being surrounded by beautiful photo canvases on a daily basis, your guests will also appreciate the clarity, vibrancy and eye-catching finish of your customised artwork.
Giving Photo Canvases for Any Occasion– Photo canvases do remain a very attractive gift choice for all. They look incredible, last for years, and are highly personalised – the perfect formula for a highly appreciated gift. Birthdays, anniversaries, and weddings are perfect when it comes to gifting photo canvases. The recipients will truly appreciate the great quality and great looks of the canvas print.
Why Photos onto Canvases?
Printing your photos onto canvas help to preserve them for much longer than any other method. With the ability to re-stretch your canvas over time, paired with the fact that most canvases are now printed with UV resistant, fade resistant, scratch and scuff resistant coatings, good quality canvas prints last for many many years – a minimum of 75years.
If you are looking for an exotic new way to exhibit your favourite photos around your home, photo canvas is the answer.
Photo on canvas prints can be made from a photograph of just anything. A beautiful wedding picture, a favourite holiday moment, a christening picture or even just a fun picture of your kids at play.
Don't forget to choose your photos carefully, especially if you are using a single one. Make sure that it really is something that you will be happy to hang on your walls. Once you have decided, you can now relax. Just look for online companies that offer custom photographic art on canvas.
Remember, when buying a photo on canvas print, a lot of companies are there that provide low-quality printing services. Always look out for quality online canvas printing companies that source beautiful custom canvas prints for your home or office. Go ahead, start browsing now and find a reliable online store for your photo canvas printing!