Homeownership comes with many responsibilities – mowing the lawn, cleaning the gutters, repainting, etc. If it isn't already, HVAC system cleaning should be high on the list of homeownership responsibilities. Not only is this the single most expensive system in a home, but it's also one of the costliest to operate. Replacing or repairing an HVAC system isn't exactly budget-friendly, and an inefficiently working HVAC system leads to soaring utility bills. Not only does proper HVAC system cleaning protect the equipment, but it also makes for a more comfortable living situation for all. Musty odors and dirty or blocked air vents are signs of mold or other pollutants that can severely impact the air quality of a space and cause health concerns.
What is an HVAC System and How Does it Work?
HVAC systems are designed to control the environment of an indoor space by providing heat, ventilation, and air conditioning – hence the initials – in residential and commercial buildings. This mechanical system replenishes indoor air with fresh outdoor air; removes moisture, smoke, odor, heat, dust, airborne bacteria, carbon dioxide, allergens, and more to improve air quality; and controls the temperature. The three main functions of an HVAC system are interrelated, making it a complicated and extensive system that requires regular HVAC system cleaning.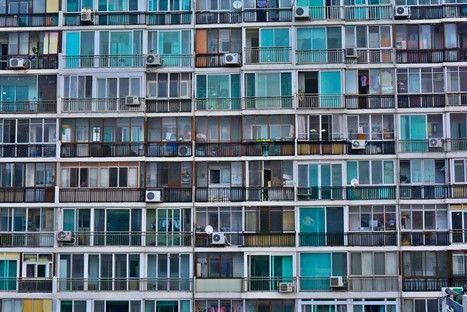 There are 9 parts of an HVAC system that require cleaning: air return, filter, exhaust outlets, ducts, electrical elements, outdoor unit, compressor, coils, and blower.
Types of HVAC Systems and Lifespan
There are three main types of HVAC systems, which all operate differently in different situations:
Split and Window AC
Packaged heating and air conditioning system
Central AC system
While the type and model impact the lifespan of an HVAC System, so, too, does HVAC system cleaning. Keeping up with the regular equipment maintenance will extend the lifespan of any HVAC system.
Five Ways to Maintain HVAC System
Replace Filters: HVAC filters are responsible for maintaining the indoor air quality of a home or building by capturing airborne particles, like dust, dirt, and germs, while air is flowing through HVAC systems. Filters also stop debris from entering and damaging the equipment. It is important to regularly check HVAC filters and replace them – every 1 to 6 months, depending on how much dirt they trap — as they can get dirty very easily. If overlooked, dirty filters can cause HVAC systems to perform inefficiently, worsening the air quality. Therefore, inspecting and changing air filters is one of the most important parts of HVAC system cleaning.
Regular Inspections: Inspections are another important part of a homeowner's HVAC system cleaning routine, and it should be scheduled at least once a year. Visually inspecting an HVAC system allows a trained professional to notice a problem before it's too late. The last thing anyone wants to do is hunt for an alternative heating source in the middle of winter because their HVAC system stopped working due to neglect. This inspection can also illuminate any corrosive damage to the internal systems, which can also cause an HVAC system to breakdown, along with any parts that need regular lubrication. This part should be repeated more than once a year as too much friction can cause a great deal of wear and tear on an HVAC system.
Debris Removal: HVAC filters can only do so much to avoid dust and debris from entering the rest of the HVAC equipment, so regular HVAC system cleaning and debris removal is needed to catch the rest. Sometimes, these particles settle on blowers, moving parts, and condensing units. While a light layer of dust is unavoidable, too much of it can cause a lot of damage to an HVAC system, resulting in costly repairs or a replacement altogether. During an inspection with an HVAC professional, ensure they carefully clean all accumulated dust and debris to help prolong the system's lifespan.
Check for Clogs: Clogs in the condensate drain can obstruct the flow of condensed water in an HVAC system, leading to moisture accumulation. Excess moisture can lead to costly problems like mold, water damage, high levels of humidity, and bacteria growth. It can also cause uncomfortable living situations because of compromised air quality and uneven temperature regulation. This is why HVAC system cleaning is so important, because it ensures clogs are flushed out of the drain so excess moisture can flow away from the system rather than getting caught and causing damage to an expensive system.
Rinse Off the Outside: It's not just the inside of an HVAC system that needs to be regularly cleaned, but the outside as well. Ideally, an HVAC unit should be situated well above ground to protect it from damage. However, this isn't always possible. For homeowners who have their HVAC systems sitting close to the ground, it's important to wash it off with a hose a few times a year to ensure it continues running at peak performance, in addition to bringing in regular HVAC system cleaning professionals.