Hermle mantel clocks are sophisticated and elegant timepieces perfect for any room. You can integrate them into your décor easily and even use them as standout decorative accents.
Here is everything you wanted to know about Hermle mantel clocks.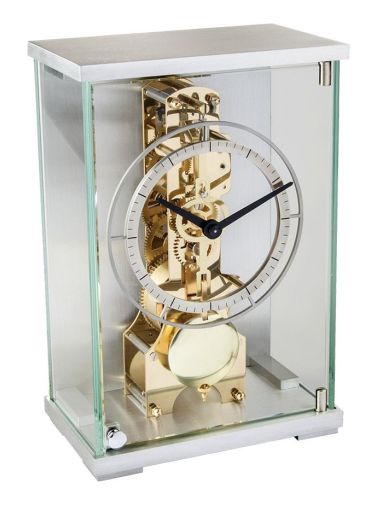 Hermle mantel clocks are available in various styles and designs. You can buy them in either traditional or contemporary designs; or with quartz or mechanical movements. You can buy them encased in domes or piano cases. If you prefer skeleton structures, you can find one with Hermle. If you like pendulum designs in your mantel clocks then Hermle has you covered.
You can also find them in different shapes – squares, rectangles; big and small. Some of the clocks are designed with wooden cases and open mechanical structures. Chrome-plated clocks with multifunctional dials and moon phase indicators are a sight for sore eyes. Place them on your desk, nightstand, and of course the mantel to add a bit of sparkle to any space. Choose from bracket-style clocks to designs with beaded moldings. In fact, the bracket-style mantel clocks in blue, gray, and white are absolutely perfect for shabby chic, nautical, and French country décors.
The filigree clock design in wood looks a little like a miniature grandfather clock. It can be the perfect centerpiece on your mantel flanked by other antiques such as golden vases. Choose from different chimes and sounds when choosing the perfect clock for your home or office.
Hermle mantel clocks are made with different materials. You can buy Hermle mantel clocks in mahogany or walnut finishes. The clocks are available in wood bases or with entire exterior made with this sturdy material. Clocks in wood bases but encased in glass are a staple here. Choose from chrome and brass as metal for various clock components.
Colors are a talking point when it comes to the Hermle mantel clocks. A striking clock in sliver and blue is a masterpiece of design and mechanics. Consider the glass dial, the silver pendulum, and the structure made of aluminum pillar; there you have a winner. You can buy red or black bases; or choose from elegant oaks and mahogany.
If you prefer gold or silver in mantel clocks, you can easily find a style suitable for your preference. Combinations of red, black, and silver offers the perfect juxtaposition of classic elements that complement contemporary home designs perfectly.
Hermle mantel clocks are versatile to use in homes and offices. With so much variety available in mantel clocks, you can easily find one that matches with your decorative or utility requirements. Choose a design with a world map and a chart of different time-zones for the mantel or desk in your office. Select a polished brass dial encased in a compact glass cube for your study or small office.
Go with a classic and simple clock design to use in your elegant office. A circular clock with Arabic numerals displayed without frills can be the epitome of style amidst all the decorative elements vying for attention. Another option is to choose a mahogany design with exquisite inlay work for any table in your home or office.
Hermle clocks are classic pieces. When you buy Hermle clocks, you are actually investing in elegant timepieces that will last you for a long time. You can use them as a part of your décor and enhance it multifold. The classic beauty of these clocks never seems out of place. They are precise in terms of clock mechanisms and the ultimate in aesthetics.
Based on the design of the clock, you can choose to bring home a classic luxury or a graceful timepiece. Whether you buy a contemporary clock or choose an antique-style design; the Hermle timepiece is going to fit perfectly with any décor for years to come.
Hermle clocks are about refinement, luxury, and vintage aesthetics. The mantel clocks from Hermle are a perfect representative of these qualities. Hermle mantel clocks add a touch of classic appeal in homes and a touch of refinement in the office. With Hermle clocks, you get timeless appeal and the pinnacle of design.