Be it de-stressing after a long day's work or freshening up after a good night's sleep, bathrooms form an important part of your dwelling. Their interiors and décor speak volumes about your personality and tastes; in fact, a stylish bathroom leaves a bigger and better impression on your guests' minds than a well decorated living or dining room.
Rustic and vintage themed interiors have been trending for quite some time, and the latest addition to this space, especially for bathrooms, is reclaimed wood vanity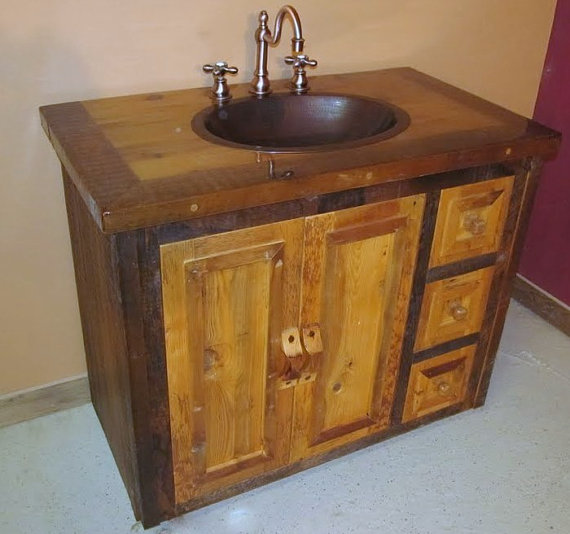 . Reclaimed wood is one, which is salvaged, and obtained from demolished buildings, barges, railway tracks, trees uprooted during storms, and so on.
Be they from the perspective of design or functionality, the reasons to use reclaimed wood vanities are many.
•  Bathroom vanities made of reclaimed wood come in a wide variety of shapes and sizes; with varying number of compartments, storage spaces, and sinks.
•  Salvaged wood, especially those obtained from barns and barges, have beautiful textures on their surfaces as a result of continuous exposure to sun and rain. Such wood, when used in vanities, brings about a vintage look to the bathroom and transport the user to a different era.
•  Reclaimed wood vanities are also available with surface finishes or paints that complement the bathroom interiors and make them striking focal points. While bleached, distressed and white washed are popular finishes given to such artifacts, turquoise, lime, red, and black are popular colors.
•  For people who find wood-only artifacts uninteresting, reclaimed wooden vanities with metal accents, hardware, and glass panels are interesting buying choices.
•  Reclaimed wooden furniture when combined with white tiles, marble, or soapstone lends a modern, eclectic look to bathrooms.
•  Articles made from salvaged wood are must-haves for users who dislike mass-produced, assembly line products. Each bathroom vanity made from reclaimed wood is a unique piece, and there is very little chance that you would walk into another person's home and find a replica of the one in your bathroom.
•  Reclaimed wood is stronger and more durable than new wood. This is because the former has been weathered and aged through continuous exposure to changing weather conditions and is less prone to warp or split over use.
•  Vanities made from salvaged wood are as good as a newly built pieces of furniture. This gives them an advantage over traditional, antique furniture, being sturdier and longer lasting, without compromising on the rustic visual appeal.
•  Many vendors of reclaimed wood furniture also offer customization services. This a boon for people looking to create bathroom vanities that meet specific requirements.
•  Reclaimed wood vanities function as conscious buying choices for people who are on the lookout for eco-friendly products. This is because up cycling salvaged wood reduces waste, and it turns landfill.
Picking the Right Vanity
When choosing an old or salvaged wood vanity, the space available in the bathroom needs to be considered. A compact vanity with a small countertop works in smaller spaces. Dual-sink vanities with larger countertops and dressing table accessories are a better choice in bigger bathrooms. Other factors like the function, and placement (whether in the main bathroom, guest bathroom, or powder room) also dictate the choice of style and size of the vanity, including its color, finish, accents, storage space and so on.
Maintaining Reclaimed Wood Vanities
Vanities of salvaged wood, when placed in bathrooms, require a considerable amount of maintenance and care. The wood needs to be sealed with water resistant materials like polyurethane to prevent it from soaking in moisture and decomposing. It is best to repeat this treatment every couple of years, especially if the log is not a moisture resistant variety like teak or old growth pine. Also, wooden countertops need to be mopped and maintained dry.
No article of beauty comes maintenance free. Similarly, wooden bathroom vanities, when cared for properly, retain their charm for a long time.