Table tops made of metal are making a comeback. Stainless steel, with its sleek look, is a favorite in modern bars and kitchens, but an equally popular choice is zinc, which blends into, contemporary traditional or period homes. They are good looking, hardworking, non-porous, recyclable, and a great choice for table tops in modern day residential and commercial spaces.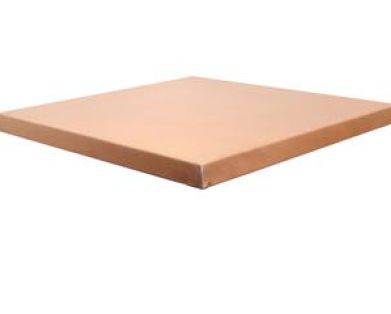 Why zinc table tops
Zinc is a natural metal – one that can be melted down, reformed and reused over and over again endlessly. Hence it serves as a sustainable choice in home and hospitality settings. It is a soft metal that can be cut and formed with hand or foot-operated tools, leading to reduced energy requirements. When made with soldered edges, zinc table tops consume even lesser energy than welding. Once the table tops reach the end of their life, the sections can be unbolted and recycled easily. Most zinc table tops come attached to wood substrates, which too can be allowed to break down naturally.
Zinc table tops come in a wide range of designs, and irrespective of the same, they are easy to install. Most of them are made to order, with the different sections laminated to wood substrates that bolt together for easy installation. No matter the theme for your bar or kitchen, zinc can be your table top. Their long-lasting surface with an ever-changing patina is a mesmerizing addition in residential and hospitality settings alike.
Appearance
Zinc table tops have an ever-changing patina that develops from reaction with different and with the environment. This becomes a part of their character, showing off memories of past conversations, moments and events. The reaction with water, fingertips, acidic liquids, oils, seaside air etc. contribute to its aged look, giving rise to a character that is unique to your environment.
Finishes and patinas can sometimes be applied to the table top, but this is not permanent. The reactive metal that zinc is, it changes color and appearance as long as it is in use.
Edge profiles
The edges of a table top can be customized to suit needs. While the patinas are something that lie beyond your control, the edge profile is something that you can choose. The front edges and aprons can be of varied sizes, as needed in your kitchen or bar. Other options for the table include drink rails, flip doors, and matching shelves.
Caring for zinc table top
A soft cloth and mil soap are more than enough to clean the zinc surface. Abrasive cleaners and sprays may be used occasionally.  Ammonia, bleach, citrus, and other harsh chemicals have an adverse reaction to zinc, and can cause it to darken. So, as a rule of thumb, use only those cleaners that do not hurt your skin. Polishes may be applied from time to time to remove spots, but they do not retain a color or patina permanently, and are often difficult to use daily.
Table top prices
When choosing a zinc table top for your kitchen, the one important question that you have in mind is the price. This is an aspect that is variable and dependent on the size, design, radius corners, drink rails etc. The price range is usually between $120 – $180 per square foot. Before you place an order, it is possible to work out a rough estimate based on your needs or a sketch or image that you have. Most vendors offer the quotes within a few hours or a day's time. Many of them ship the table top in a ready to assemble format, and do not perform installation at the site, so you may want to factor in professional charges if you desire to have the table top installed by a third party.
Zinc table tops make a great choice in any home irrespective of its interior design scheme. Their sustainable character and ever-changing patina make them a great choice for modern day homes that need beautiful, yet environmentally friendly solutions.