Many houses are being built or set up based on a new and rewarding theme- rustic natural. People are trying to build countryside looking houses with the city perimeters to have a much more comfortable home-life feel amidst their hectic lifestyles. So, ceiling fans are no exception to this and Casablanca fans are made with uncompromised quality and excellent performance. Listed below are a bunch of useful options for people looking at a more relaxing and cozy looking ceiling fan for their homes or offices.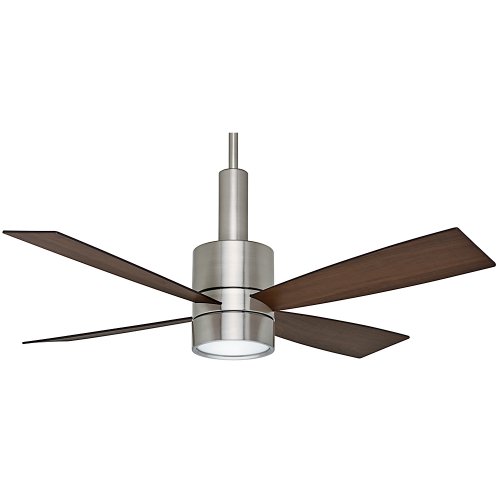 Orchid:
This mode is given its name since the blades resemble a blooming orchid. It comes with an integrated light kit at the center with cased white glass. Used as both as an indoor and outdoor fan, it comes with three blades of walnut or plastic make and finished with a pewter revival touch. Don not be fooled by its small size as this compact fixture is powered by an efficient motor, making no noise and durable for years to come even with daily use.
Zudio:
This classic piece is a favorite among residents and unparalleled in performance. Its simple design allows it to effortlessly blend in to any space. Manufactured with five blades, it comes in industrial rust, brushed nickel and snow white finishes. The blades are exclusively made from timber/river timer, distressed oak, and plywood that embodies natural conservation. It includes a light kit with a 16W LED bulb and a high-end motor.
Heritage:
As the name suggests, this fan is more of a vintage creation.  It incorporates antique detailing, raised switch cap, and a custom cobblestone texture on its body. It can be used both indoors and outdoors and comes with aged bronze and brushed cocoa finish. The fan is made from five reclaimed antique veneer blades and has no light fixture. Although, for quick and easy on/off options and speed adjustments, the fan has a pull chain. A reversible motor is included to change the fan's direction from downdraft mode during simmers to updraft mode in winters.
Heathridge:
This charming ceiling fan from Casablanca has a rich weathered appearance with four lights and Sepia glass. The five blades are made from mountain timber and come n Tahoe and aged steel finishes. Heathridge comes with four 40W Candelabra incandescent bulbs that emits warm radiation to the entire space/area that it is fitted in. The lights can be removes as per one's choice. In it, one can find a Direct Drive motor that gives peak performance and the products guarantees of a one year warranty.
Panama Gallery:
A historical classic, the Panama Gallery spells out an old-world charm to create an alluring aura.  It has been mainly influence by the drastic evolutions in the automobile industry, while bring constantly revamped and revitalized, making it one of the bestsellers among many collections. This beauty comes with five blades made from different materials like burnt walnut/walnut reversible veneer, reclaimed antique plastic, espresso, and architectural white plastic. One can choose any type of product finish like maiden bronze, antique pewter, architectural white or bright brass. Four lights with 14W standard medium base CFL bulbs enclosed within tea satin glass. The fan can come without the light fixture if desired.
There are many fans to explore and selecting the right one for your home with a rustic theme can be a possibility now. Always make sure to choose a fan that can go with the room in terms of size i.e. if you have smaller space/room, your best bet would be to go for a small and compact fan and if you are looking for a fan for a larger room, big fans would justify the space.
Looking for a ceiling fan is not a herculean task anymore. Casablanca Fan Company have a wide range of exceptional ceiling fans that can cater to many needs and are used in many places. Whether you go to a store and purchase it or order it from an online shopping website, always check the return/exchange and refund policy and make sure you know all the specifications and product description.