Have you ever thought how much it would cost to replace the roof of your house, change the gutter system and redo the landscaping? That is what you will have to spend if you try to save money on installing snow guards. The areas that receive heavy snowfall are also prone to avalanche disasters and mounting snow guards on your roof help to prevent these.
We have been using various methods of avalanche protection from past many years. What started as wooden logs and stones has now upgraded to snow cleats, guards, fences and avalanche nets. Here is some information about snow guards that will help you realize what are they and how important they are for your house.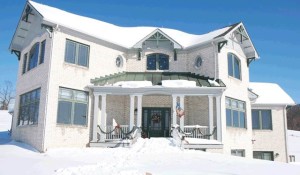 How do snow guards work?
After a heavy snowfall, a thick layer of snow deposits on the roofs of houses. Within a day, this snow solidifies into an ice sheet, which is very heavy and has propensity to slide easily. Without any resistance, this ice sheet will easily slip and fall on the ground below. And in this process, it can damage the roof, gutters, porch area, landscaping and worst of all it can also harm people standing in its way.
Snow guards, when mounted on the rooftops act as protective barriers and create friction. These guards grip the soft snow in small pieces so that it either melts completely or falls down in little quantities without causing any harm.
What types of snow guards are available in the market?
Usually, there are four types of guards available in the market – fence type, pad type, standing seam and pipe type. You should select the snow guards according to the style and kind of your roof. Ensure that the guards are made of high quality material so that they can bear the brunt of extreme outdoor weather.
How are the snow guards installed?
You should always try to call an expert to install the guards on your rooftop. This will ensure that it is done properly and according to the requirements of your roof (en.wikipedia.org/wiki/Roof). Different kinds of guards are available in the market and each suits a particular roof type. For example, a clamp snow guard will work well with standing seam roof and panel snow guard would be better suited for ribbed and corrugated roofs. Make sure that you find out what style of guards would be better for your roof and what material it should be made of – metal or polycarbonate.
How many snow guards should you mount on your rooftop?
The number of guards you should install on your roof depends upon various factors – snow load, slope of the roof, incline of the roof, area, etc. The roof slopes with slant between 30 to 45 degrees are known to cause most avalanches. If the roof is more inclined, it will not allow the snow to accumulate and if it is flatter, then it will require higher force to move the ice sheet and it will not fall easily on the ground below.
Snow guards for metal roofs are usually installed in rows, the first row is placed 6 inches away from the edge and then an additional row should be added after every foot. It is very crucial that you install the required number of guards on the roof. Any compromise in this aspect can result in a major accident. The amount of snow expected in the area can also play a variable factor in deciding the number of guards needed on your rooftop.
Moreover, nowadays these guards are also being used for decorative purposes. They are available in a variety of metal powder coated colors. You can find the one that you like the best and what suits your rooftop. These snow guards will provide functionality, all while enhancing the aesthetic appeal of your house!