Do you want to add beauty to your home? Opt for custom furniture and smarten up your décor in an unforgettable fashion. You can simply ask the manufacturers to modify the furniture as per your preference and style of your home. Now, custom furniture can be created for various objects, including kitchen cabinets, bar counters, knife blocks, knife racks, tables, cutting boards, living room furniture like chairs, sofas, television stands, dining space, bathroom cabinets, outdoor lounge chairs, bathroom vanities, desks, bookcases, coat racks, storage trunks/chests, built-in wall units, shelf brackets, countertops, wine cellar and more. So, you must first choose the furniture you want to create in a customized way for your home. The Market Forecast of the 2013 Home Improvement Product projected that the sales will continue to increase at an average of 6.9% between 2014 and 2015. Hence, it's obvious that the homeowners are willing to make strategic changes to homes, to beautify them. The homeowners are also now focusing on adding modern touches to the inside and outer spaces of their homes.
Let's now check out in this regard a few ideas for creating custom furniture for the home:
§ Swivel Oak Back Barstool – You can spruce up your décor with a Swivel Oak back barstool crafted with hickory sticks. Often the hickory sticks are carefully selected from the hickory forest. They are dried naturally for months and consequently in a kiln to precise moisture content, ideal for making the furniture. You can get such custom furniture within 4-6 weeks from your order placement.
§ Traditional Boudoir – This is a custom-built furniture that you can have for your bathroom. Often, available in a classic style, the furniture includes floral details. Mirrored paneling around the vanity looks great in any bathroom. You can see the floral displays in the wall paper. This custom vanity can retain the shape of flowers of fantastic styles. Colored cabinetry can be a beautiful addition to your bath space. You may place orders for light green cabinets if your room is made up of dark color. Moreover, gleaming pull or sterling lining can be added to highlight the vanity. Floral centerpieces in portions of the bathrooms can add poise to your decor. However, if you are not fond of conventional style, you can opt for modern custom furniture for your bathroom.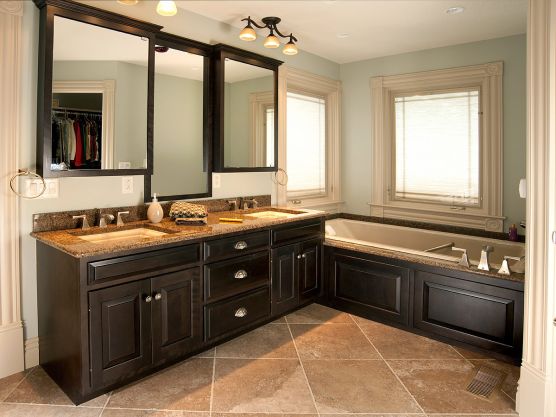 § Sleek Cabinets – If you are passionate about exclusive modern style, you can opt for rectangular vanities designed for your flat screen television. You can either place the cabinet in your bathroom or kitchen. Orders can be easily placed to create custom cabinets as per your desired setting.  Usually, rectangular cabinets of white, gray as well as black are ideal for bathrooms. Countertops and marble sinks can be great additions to this space. In addition, mirrors protruding out from the wall can look great with the cabinet. You can have the sleek cabinet pieces to wow your loved ones.
§ Single Powder Room Vanity – You may also opt for single vanity designs for your powder room bath space. Different types of styles are available in various sizes to make the furniture apt for bathrooms. You can place order for a small custom vanity with a mirror and sink. Plain mirror in a rectangular shape will look great when placed over a marble sink and countertop.
§ Loft Design Vanities – Loft design vanities often make use of the warmth of wood. You can choose wood like cherry or mahogany for building this vanity. To create loft design vanities, you may place orders for double cabinet doors up to 6 individual drawers for storage. You can color the doors and drawers of the cabinet as per your preference.  If you want, you can let the design of the custom furniture to embrace the color of your room to add an exclusive finesse.
§ Corner Design Vanity – If you want to make the best use of your empty corners, you can opt for corner design vanity. This would be a great idea for decorating your bathroom and bedrooms. You can order custom furniture to add more character to corners in your home or office.
So, what are you waiting for? Place orders for custom furniture and decorate your home in a remarkable fashion.